Cycle advice and safety
Bicycle helmet requirements
Before setting out on your bike it's important to make sure you'll be safe when cycling. It's imperative to wear a helmet which; conforms to current regulations, is the correct size and securely fastened, as head injuries are very common injuries to cyclists.
You should make sure that any helmet you buy has a "CE" mark and meets one of the following standards:
BS EN 1078:1997
BS 6863:1989
SNELL B.95
Helmets that also have a British Standard Kitemark are even better.
How to wear a bicycle helmet correctly
It should be level, and sit just above the eyebrows - it should not tilt backwards or forwards, the forehead should not be exposed, and your vision should not be restricted
It should fit closely to your head and feel comfortable – when you shake or nod your head, your helmet should stay in place
It should have an inner layer of polystyrene and either a hard-plastic shell or a mesh cover
The helmet and straps should not cover your ears – the straps should go around the ears, forming a "V" shape under the ear lobe, and there should be no slack in the straps
Most helmets come with adjustment pads and instructions for fitting the helmet and adjusting the straps – make sure that you read these carefully to ensure that the helmet is fitted correctly.
Cycling friendly clothing
In addition to a bicycle helmet, it's important to wear suitable clothing for cycling to ensure you can be seen in all weathers, day and night.
Appropriate clothes for all cycling, avoiding clothing which may get tangled in the chain, or in a wheel or may obscure your lights
Light-coloured or fluorescent clothing which helps other road users to see you in daylight and poor light
Reflective clothing and/or accessories (belt, arm or ankle bands) in the dark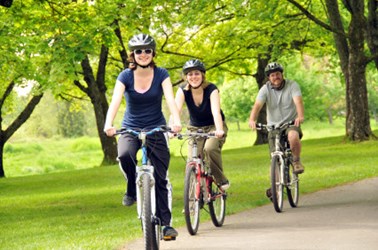 Cycling organisations
Sustrans
Sustrans is a practical cycling charity co-ordinating the building of the National Cycle Network. Three routes of the National Cycle Network run through Nottinghamshire:
Route 6: Nottingham to Worksop or Derby
Route 15: Nottingham to Bingham
Route 64: Bingham to Lincoln
tel: 0115 853 2948
website: www.sustrans.org.uk
National Byway  
The National Byway is 3,200 miles (5,150km) sign-posted leisure cycling route, around England and parts of Wales and Scotland, providing discreet sign-posted direction along some of the most attractive and peaceful rural lanes.
tel: 01372 464 666
website: www.thenationalbyway.org
Cycling UK
Formerly known as the CTC, Cycling UK has championed cycling for more than 140 years, inspiring people of all ages, backgrounds and abilities
to discover the joys of cycling.
tel: 01483 238 301
website: www.cyclinguk.org