Cycling gear checklist
Wednesday, August 19, 2020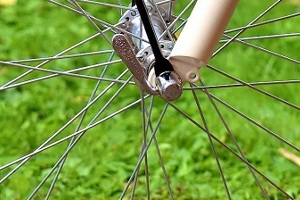 Is your bike in good working order?
Whether you're cycling for leisure, or to get to and from work, you need to make sure your bike is roadworthy. If it has been in the shed or garage for some time, it could be worth checking it over. Sustrans have made this guide to help you check your bike in 11 steps.
Download a printable version of the checklist below [PDF]
What you need
The only essentials are:
Other things you might want to bring
You may also want to bring some of the things below. You almost certainly won't require every item listed here; it will depend on your individual needs and preferences. Think about where you are going, what weather conditions are like, and what you are likely to need.
Basics
☐ Water (in bottles or hydration pack)
☐ Eye protection (sunglasses or clear lenses)
☐ Street map
☐ Medical info / emergency contact card
☐ First-aid
☐ Bike lock
Other items
☐ Food (for longer journeys)
☐Tissues
☐ Chamois cream/skin lotion
☐ Sunscreen
☐ Lip balm
☐ Mobile phone
☐ Cash / credit card / ID
Repair
☐ Spare tube or tubes (and/or patch kit)
☐ Pump
☐ Tire levers
☐ Cycling multi-tool (with Allen wrenches)
Storage and equipment
☐ Backpack, waist pack or hydration pack
☐ Messenger (sling) bag
☐ Saddle (under seat) bag
☐ Headlight
☐ Taillight (with blinking option)
☐ Side safety lights (on frame, spokes or seat post)
☐ Bell
☐ Handlebar bag
☐ Cargo rack plus trunk bag
☐ Panniers
☐ Mirror (for handlebar or helmet)
☐ Fenders
☐ Straps or bungee cords
Clothing
☐ Rainwear
☐ Wind jacket
☐ Insulation layer
☐ Leg straps for pants
☐ Shoe or toe covers
☐ Visibility vest
After cycling
(Carry with you, or store in advance at your destination)
☐ Change of clothes
☐ Off-bike footwear
☐ Toiletry kit
☐ Towel / washcloth
Other accessories
☐ Padded shorts or tights
☐ Jersey or top
☐ Gloves
☐ Bike-specific footwear
☐ Cycling socks
☐ Buff/bandana/skullcap
☐ Small, quick-dry towel (for clean ups)
☐ Baby wipes (another clean up option)
☐ Energy food/gels/drinks
☐ Cycling computer/GPS
☐ Heart rate monitor
☐ Patch kit (and/or spare tube/tubes)
☐ Pressure gauge
☐ CO2 inflator (with cartridge)
☐ Lubricant
☐ Strips of duct tape (for repairs)