How Travel Choice has helped people get to work
Wednesday, March 18, 2020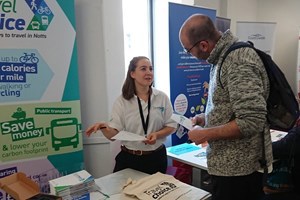 Uncertainty about how to get to a new job can be a barrier to venturing back into employment. To tackle this, for the past two years Nottinghamshire County Council's Travel Choice team have been working with the Jobcentre Plus in Mansfield and Newark to establish a new travel advice service for jobseekers. The service is specifically designed to help overcome transport dilemmas when travelling to work, interviews or training.  
To date, Travel Choice has reached out to 2,000+ jobseekers with approximately 60% of those accessing tailored advice about their travel options. Jobseekers received a travel information pack containing useful local transport information and many participants benefited further from a range of exclusive Travel Choice services, including bike loans, moped loans, Dr Bike maintenance, and free bus and train tickets to help them get to work opportunities and interviews.
Since launching the project, we've helped over 85 jobseekers into employment education or training.
A jobseeker from Mansfield, who first heard about Travel Choice through his jobcentre Work Coach said:
"I was given help with bus travel from Warsop to Morisson's supermarket in Mansfield. The bus tickets worked fine! I was on jobseekers allowance and would really have struggled to get to this job without the tickets."
"I've now passed the probation period and have made it onto a salaried wage and it's much better. Since staring the job I've also been promoted to team leader – managing the buttery. I'm really happy that Travel Choice could help me get off jobseekers support and get to where I am today!"
In April 2020, Travel Choice will move to a new area and will be supporting jobseekers in Ashfield & Bassetlaw. Contact travelchoice@nottscc.gov.uk to find out more.