Make walking and cycling your New Year's resolution!
Wednesday, January 19, 2022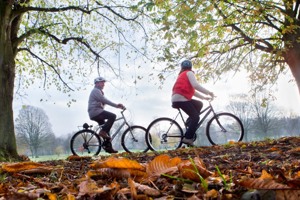 Walking and cycling is a great way to improve your mental and physical health, it is also really fun to do and can help you save money if you ditch the car!
Did you know:
Walking and cycling increases blood flow to our brain, which improves our mood and makes us feel less tired – just what we need on those dreary January days!
Walking and cycling are great low impact ways to exercise, making it perfect for most people getting back into exercising (but always check with your GP first if you're unsure).
Ditching the car for just one trip per day and walking / cycling instead can reduce your carbon footprint by around 500kg per year and save you tonnes of money!
Fancy giving walking or cycling a try? Check out our handy tips for walking and cycling this winter:
Wear several light layers to keep your body insulated without overheating.
Cover your hands and ears with windproof gloves and a good hat.
Wear bright clothing and reflective gear to ensure others see you whilst walking / cycling
Make sure your bicycle has working front and rear lights - this is the law!
Think feet! Make sure you have thick socks to keep out the cold and improve grip.
Make sure to stretch / prepare your muscles before heading out.
Great ideas for routes in Nottinghamshire are available via our 'Routes and Rides' guides available at: https://travelchoice.nottinghamshire.gov.uk/getting-around-nottinghamshire/walk/