We're helping communities to get active
Friday, September 23, 2022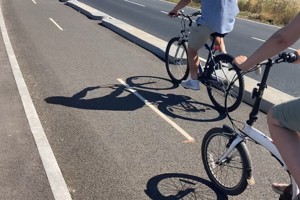 Nottinghamshire County Council has secured funding for Travel Choice to run a project across North Nottinghamshire that will encourage and enable more people to get active whilst aiming to increase the amount of people walking and cycling for everyday journeys.
Partnerships will be established with a variety of professionals, groups, and community providers to ensure that the work achieves maximum reach and impact. We will work with:
GP Surgeries,
Community Groups and Charities
Social Prescribers, Health Coaches, and Link Workers
Integrated Care Partnership
Increased levels of activity have many benefits, and the project aims to help people who are:
looking to be more active,
seeking to lose weight,
seeking to build fitness,
recovering from surgery or illness
We have different incentives which we can provide on a bespoke basis to suit the needs and wants of the individual, these include:
Information packs which contain information on the health benefits of walking and cycling, top tips on buying and maintaining a bicycle, cycle maps and a guide of local 'routes and rides' to help people to get out and about in Nottinghamshire.
A limited number of Bicycle loans (including some e-bikes)*
Bicycle locks, lights, and helmets*
FitBit activity trackers (and / or pedometers)*
We will also be also arranging "Dr. Bike" cycle maintenance sessions at different sites, where people can have their bikes serviced free of charge**, as well as being offering FREE cycle training for those who are interested in cycling but need some professional guidance to increase their confidence. These will be tailored to suit ability, from complete novices who have never ridden, to those with more know-how who want to build skills and employ proper form on the roads.
* - Limited numbers, first come / first served.
** - Limited numbers of these sessions available, repairs are limited to low-cost items e.g., inner tubes, brake/gear cables/pads, etc.