Why not join the growing number of people getting back on their bikes?
Thursday, December 22, 2022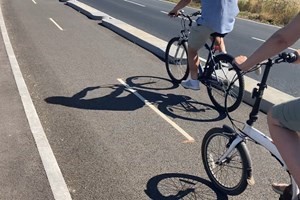 Nottinghamshire County Council has been running cycle training sessions since September 2022 in Mansfield, Ashfield and Worksop.
These have helped many people become more confident in cycling. The sessions are run alongside 'Dr Bike' maintenance sessions, which can help fix up your bicycle if you haven't used it for a while.
Why not give it a try? It's FREE and could get you cycling again to start the New Year. This could help you to be more active and could save you money on everyday trips.
The courses are suitable for adults who:
haven't been on a bicycle for years,
need something fixing on their bike,*
would like to be more confident in cycling,
would like to ask questions and get tips from an expert.
The sessions run every month on both a weekend and a weekday, at the following locations:
Tichfield Park, Mansfield
Sutton Lawns Park, Sutton-in-Ashfield
The Canch Park, Worksop
If you don't have a bicycle, we can loan one for you for the training session.
Increased levels of activity have many benefits, and the project aims to help people who are:
looking to be more active,
seeking to lose weight,
seeking to build fitness,
recovering from surgery or illness.
If you would like to book a session, please visit the website below and click the booking links.
Cycle training and Dr Bike Sessions are booked separately, and you can do either or both together. We look forwards to seeing you!
https://travelchoice.nottinghamshire.gov.uk/information-for/health-services-pilot/
*- Limited numbers of these sessions available, repairs are limited to low-cost items e.g., inner tubes, brake/gear cables/pads, etc.