Winter walks and rides
Wednesday, December 2, 2020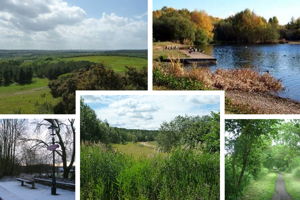 It's fair to say that 2020 has been a difficult year, with many of us hoping for better times in 2021. If you have a bit of time off around the Christmas period, why not try blowing the cobwebs off, and getting out and about by foot, or on your bike?
Walking and cycling can do wonders for your physical and mental health, and in Nottinghamshire, there's lots of great countryside to explore. You can lose weight, get fitter and healthier for free, and get into a good habit for the New Year.
Our county's nature reserves and green spaces cover more than 4,500 acres, with a network of more than 4,000 public footpaths, byways and bridleways, excellent for dog walking, or simply enjoying the countryside with your family.
Spotting birds, mammals and insects can be a great activity to enjoy with young children, to help them to learn more about local wildlife.
If it's cycling that you're in to, there's more than 550 miles of countryside and urban cycle routes.
For more details about where to go in Nottinghamshire, take a look at our free routes and rides booklets. You can read them online, or download copies using the link below:
From everyone here at the Travel Choice team, we wish you a relaxing Christmas break and a great New Year.
Are you thinking about how you will travel to work in the new year?
FREE travel planning support is available for employers and their employees based in Ashfield or Bassetlaw, as well as jobseekers in Ashfield, or general support with travel for anyone in Nottinghamshire.
Find out more below, or get in touch with us to see how we may be able to support you.